Traditional Marketing
At Green Acre Marketing, we champion traditional marketing activities. When it comes to developing a print media campaign, we're mindful of where your adverts are placed, keeping in mind the location of your target market. When designing your adverts, it is crucial that we complement your brand, set it within your branding guidelines and ensure consistency with all other marketing activities including digital campaigns. For print assets and promotional materials, similar to your adverts, consistency is key. This means that all print assets will reflect your brand guidelines and provide clear messaging – while catching the attention of the reader.
Print Media Campaign Development
For the advertising element of your marketing campaign to be effective, it needs to be part of a larger effort that has considered longer term, consistent placement. At Green Acre Marketing, we work with our team of designers to develop a suite of adverts that clearly and effectively represent your brand and what you do. We also develop and book advertising campaigns with all the main agricultural and food publications.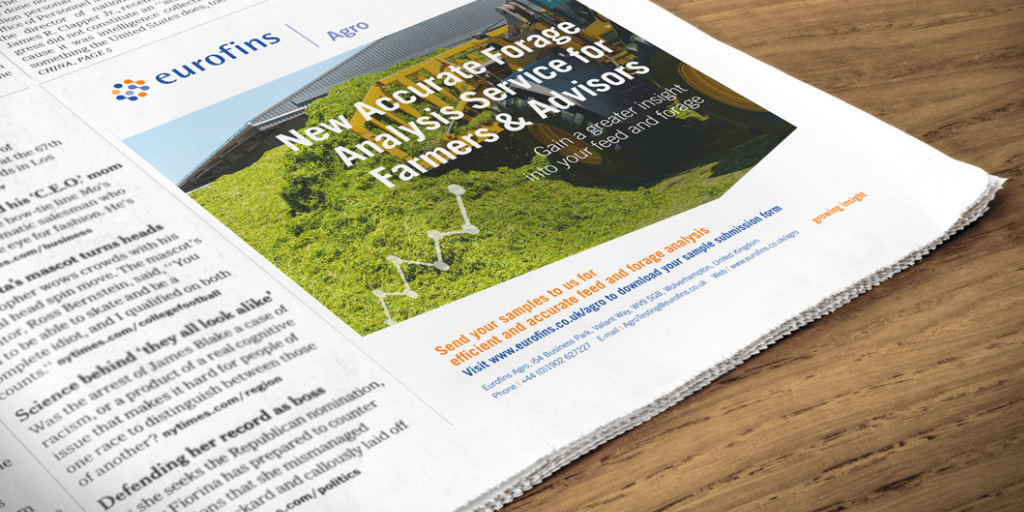 Print Assets
When it comes to developing hard copy promotional literature and brochure design, achieving the right look is key. It is fundamental that your literature is produced in a way that portrays the expertise and quality of a company's product. Green Acre Marketing emphasises this quality with expert copy proofing and design.
Promotional Material
Promotional items are a great way of providing brand awareness to your target market. From jackets and hats to pens and cups, branded items are always well received gifts for customers at shows, events and even for Christmas! Green Acre Marketing has accumulated a fantastic team of suppliers who develop exciting and new ideas to help our customers improve their brand awareness.  
Newsletters
Newsletters provide a very efficient way of communicating with your customers to inform them about new products, special offers and general news within the company. We develop newsletters for many of our clients both seasonally and monthly, both in print and digital forms.
Radio Campaigns
At Green Acre Marketing, we place great value in radio advertising campaigns. It's a great way to communicate with your target audience, by placing ads at key times for the industry; in the build-up to and during agricultural shows, etc. We work with leading brands to develop radio scripts and arrange the placement and timings of campaigns, in addition to advert recordings.
Copywriting
When producing a brochure or press release, it is important to ensure that your message is direct and clear. Far too often text is written too elaborately, and the key message is lost among it. It is also important to ensure that text is proofed so that it is written correctly and makes technical sense in terms of product features. At Green Acre Marketing, we produce clear, concise and informative content for use on brochure ware or press releases.